Ryobi Expand-It Explained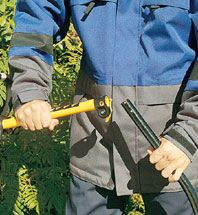 Make light work of tough jobs around the garden with Expand-it™. The system allows you to turn one power unit into eight different garden power tools. Attachments include: petrol line trimmers, brush cutters and even a rotary cultivator.

Compatible units in the range feature a quick release mechanism, half way down the shaft, that enables you to remove the bottom half and replace it with the attachment needed.

You can just purchase a 26cc power head unit on its own then buy whichever attachment suits your needs, or you can purchase an Expand-It Brush Cutter or Line Trimmer as a whole unit, then add further attachments as and when you need them.

The system is cost effective, convenient and easy to store. Just look out for the Expand-it™ compatible logo.


Ryobi Brush Cutter



Ryobi 26cc Petrol Driven Power Head

Ryobi Strimmer

Ryobi Blower


Ryobi Edger

Ryobi Hedge Trimmer


Ryobi Extension Bar


Ryobi Pruner

Quick Release – Simply use the quick release
mechanism on the shaft to remove the trimmer
or cutter head and connect the Expand-it™
attachment – within a few seconds you have a
new garden power tool.

Ryobi Cultivator

Which other machines are compatible with the Ryobi Expand-It Range?


As a rule if your Ryobi garden tool has a wing nut half way down the shaft then it should be fine, if you are not sure please give one of our knowledgeable team a call to check on 01733 343031.

Listed below are just some of the models that are compatible.

• RPH26E 26cc Power Unit
• RBC30SESB 30cc Brush Cutter
• RBC30KIT1 30cc Brush Cutter Kit
• RBC30KIT2 30cc Brush Cutter Kit
• RLT30CESA 30cc Line Trimmer
• RLT26CDS 26cc Line Trimmer


Starting and Using Ryobi 26cc Petrol Drive Power Head


Information on how to start and use the correct petrol and oil mixture for Ryobi RPH26E 26cc Power Head.